For the first time ever, Arman's Titletown Talk is branching outside of Green Bay Packer-land to crowd-source Minnesota Vikings, Detroit Lions and Chicago Bears content from friends of the blog.
Big thanks to those who shared their thoughts below and please note some responses were edited for length. Each NFC North contributor was asked about a player or two from his favorite team who fans may be surprised by, team strengths and weakness and of course, week one game predictions. A bit about our contributors this week…
Ryan Shandley and I have been friends since grade school and we've always had fun bantering with each other about his affinity for the Minnesota Vikings. He very closely follows his team and has a plethora of knowledge about the NFL overall.
Both Chris Short (passionate Chicago sports fan) and Eric Benderoff (huge Lions and Detroit sports fan) are former colleagues of mine form the PR world who pay close attention to sports news, root hard for their teams and love to voice their opinions, usually on my snarky Facebook statuses celebrating Packers victories.
Thanks to Ryan, Chris and Eric for their insights and please enjoy!
Minnesota Vikings – Ryan Shandley
1. Key Week One Match Up and Final Score Prediction, Vikings / 49ers:
Jimmy Garappolo was sensational down the stretch in 2017, but he is facing one of the league's premier defenses, in their home stadium where they only conceded 3 TDs through the air last year. The additions of Sheldon Richardson, George Iloka and first round rookie Mike Hughes give Zimmer the ability to be creative; watch for Barr to rush the passer more in this game, with Iloka getting some LB work on 3rd and long. 28-13 Vikings.
2. Biggest Surprise Player on the Vikings in 2018:
Third-year WR Laquan Treadwell and Rookie DB Mike Hughes. Hughes has grasped Zimmer's defense quicker than any rookie. He will impact special teams with his return ability, but make a difference out of the nickel and on the outside when called upon. The Vikings got a special talent in Hughes when they drafted the 21-year-old out of the University of Central Florida 30th overall in the first round.
3. Biggest Strengths / Weaknesses on the Vikings:
Strength is their defense, but more specifically, the defensive line. A front door of Everson, Linval, Sheldon and Danielle is down-right scary. That's the type of DL you put together in EA Sports' NFL Madden video game when building your own team. The whole defensive scheme's success is predicated on Linval and Sheldon stopping the run. Individually, they've proven they are capable of that over their careers, and now they line up next to each other. On the outside, you have two of the most athletic pass rushers in the league. Hunter had freakish abilities, even though his sack numbers were down last year. The Vikings know they have a unique talent, as their new contract with Hunter in the offseason suggests. Everyone knows the DBs are great talents, but a lot of that is dependent upon the DL creating pressure.
The biggest concern/weakness is special teams this season. Specifically, punt coverage and FG kicking. Vikings are rolling with the 5th round, big-legged rookie Daniel Carlson. He beat out Kai Forbath in training camp. Shocker. The Vikings have lost far too many games due to clutch kicking and hopefully Carlson doesn't follow that trend.
Punt coverage was awful in the preseason. No hang time on punts coupled with minimal distance. This led to the release of former Vikings punter Ryan Quigley, and waiver wire pick up in Matt Wile from the Steelers. Pro Football Focus graded Wile as the second best punter in the preseason, for what that's worth. Either way, look for him to vastly improve the punting game.
Detroit Lions – Eric Benderoff
1. Key Week One Match Up and Score Prediction, Lions / Jets:
Lions defensive front against Jets rookie QB Sam Darnold. Can they put the pressure on the rookie's first NFL start? Lions defensive front seriously lacks a pass rush. Lions 24, Jets 14
2. Biggest Surprise Player on the Lions in 2018:
Kenny Golladay will have a breakout year at wide receiver. With Golden Tate and Marvin Jones the top targets for Matthew Stafford, Golladay will be single covered and should benefit.
3. Biggest Strengths / Weaknesses on the Lions:
It starts in the trenches and the Lions are weak on both offense and defensive line. There is a potential for either to surprise but I'm not optimistic the Lions will win many battles of the trenches.
If the offensive line is decent, the Lions have a great variety of offensive weapons. The receiving core is excellent and the rookie running back - Kerryon Johnson and veteran banger LeGarrette Blount - may finally provide the needed yards and time of possession to adequately balance the offense.
Chicago Bears – Chris Short
1. Key Week One Match Up and Score Prediction, Bears / Packers:
It's not surprising that Khalil Mack's arrival in Chicago has heightened expectations in Chicago, BUT can a player as good as Mack actually make a difference with one week of practice against a pre-season divisional power like the Green Bay Packers?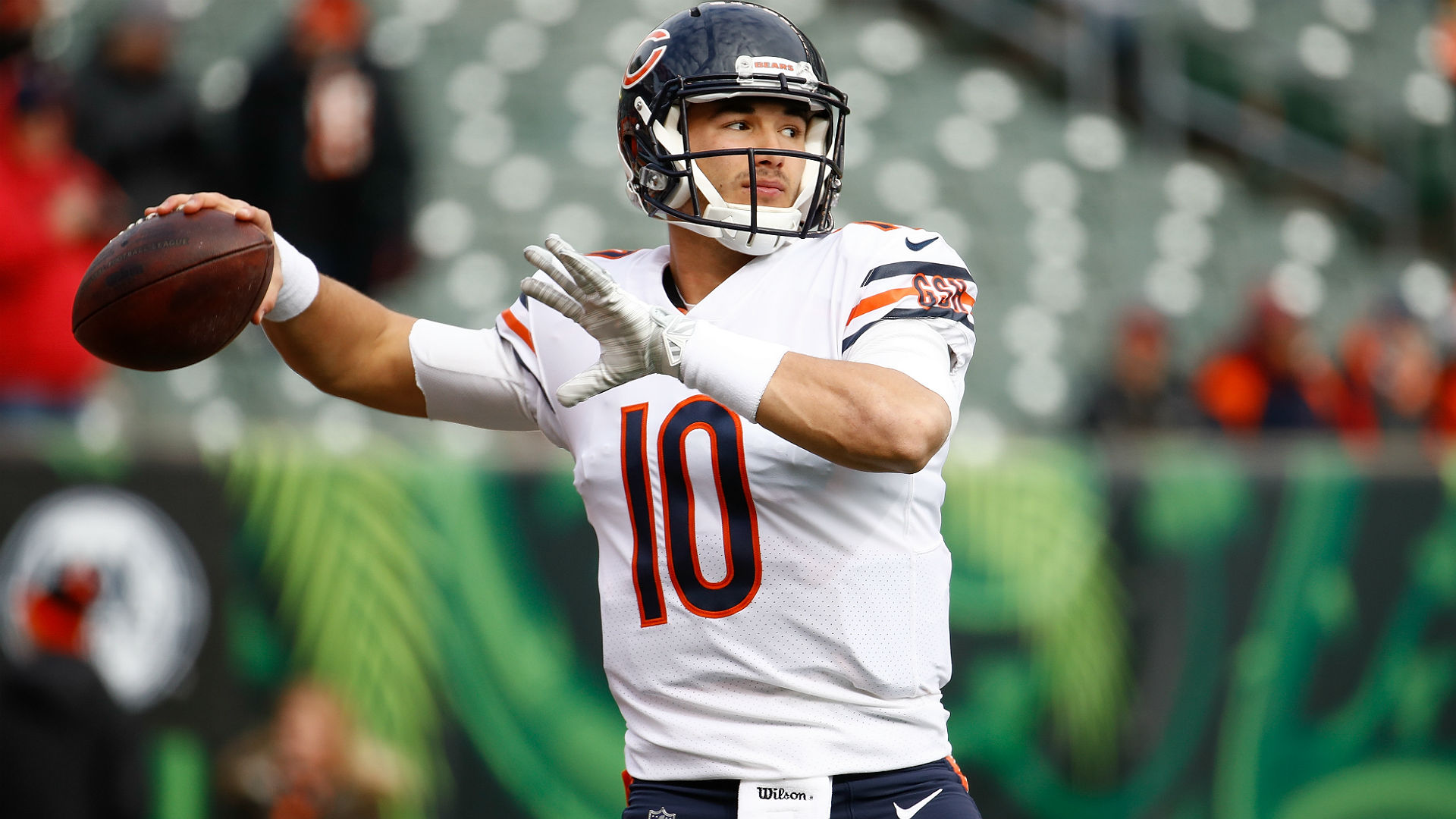 The same goes for Roquan Smith, who many believe has some chance at rookie of the year honors. Really, that's the key match-up in this game - the Bears defense against Aaron Rodgers and the newly revamped Green Bay offense. Adding Jimmy Graham and tinkering in other offensive areas has made the Packers offense extremely powerful on paper. Can the Bears slow them down? Well, Bears defensive coordinator Vic Fangio does have a decent track record of limiting Rodgers throughout his career. If Mack and Smith can play, along with the banged up pass rusher Leonard Floyd, things could get rough for Rodgers. Given the overall lack of experience on the Bears, the Packers should win this game but I think it's going to be closer than many think.
Prediction: Green Bay 24, Chicago 20
2. Biggest Surprise Player on the Bears in 2018:
There are a lot of names getting publicity for the Bears heading into the season - Mack, Smith, Robinson, Cohen, Howard, Aiken, Jackson. One move that was made with little fanfare but could be a major move is the acquisition of Trey Burton, the former back up TE for the Super Bowl champion Philadelphia Eagles. Given Nagy's love of targeting the tight end in Kansas City, I think Burton is going to have a big season for the Bears.
3. Biggest Strengths / Weaknesses on the Bears:
On paper this team has improved exponentially. They finally have talent on both sides of the ball. It's really easy to look at the schedule and say this team could be much better but only win 6 or 7 games given the opponents they play in 2018. Without a doubt, the single biggest weakness on this team is inexperience. The Bears have a first-year head coach, and several young or rookie players at important positions. Those weaknesses could turn into strengths as the season wears on, but out of the gate that inexperience could hurt the team. The match up with the Packers could be very different by the second time they face each other.
On offense, the line is good, but not dominant. Trubisky has talent and has really impressed at times, but he needs to show the team he's grown into the role of team leader. Howard is great at north/south running, but has to show he can catch the ball. If everything clicks at the skill positions, the Bears could be very explosive based on the schemes that Nagy ran in KC, but my guess is they will be a much better team by game 4 or 5 than they are early in the season.
This team has a great chance to be a top five defense by the second half of the season. If Mack and Smith respond quickly to their new roles, watch out. Scoring on this team will be tough and if they over-perform early, the possibility of a playoff spot isn't out of the question.